MOBILE MEMBERSHIP

Members will be able to scan into home and replacement games this year using their Mobile Membership Card. This is available via the North Melbourne Football Club app on iPhone and Android devices.

You can simply scan your mobile membership card as you enter the ground.
Your tickets will be made available in the app 7 days prior to each game.
We have a plastic membership card option for those don't have access to a smart phone, please get in contact with our team on 1300 526 427 or click HERE
PLEASE NOTE: Mobile member cards will not be ready for the 2024 season until March 2024.

HOW TO ACCESS YOUR MOBILE MEMBERSHIP CARD:
1. Download the app on your iPhone and Android
2. Once in the App select "My Card" along the bottom of the page
3. If you haven't already, log-in to your MyKangaroos account using the email address linked to your Kangaroos membership. (If asked to link a Ticketmaster account, select 'no thanks')

4. The matches you have access to will appear on this screen. Select the match you would like to attend (this will be available 7 days prior to each game)
5. Select 'View Barcode' to view your ticket or add to your Apple Wallet or Passbook for later use.
6. Scan into the game using this barcode.
7. PLEASE NOTE: You can no longer screenshot your tickets. If you would like to send the ticket to someone else to use, you must select 'Transfer' and input the recipient's details.
8. If you attend the footy with multiple members, or juniors, and would like to access their card on the one app, follow the "Linked Accounts" instructions below.

Please note, for general admission members please ignore the sec, row and seat that appears with your barcode. Your general admission membership gives you access to any general admission areas which are communicated at the ground on game day.

HOW TO ACCESS YOUR MOBILE MEMBERSHIP CARD IF IT IS YOUR FIRST TIME LOGGING INTO THE APP:
Open the North Melbourne Official app
Select the "My Card" tab at the bottom of your screen
Click on "Forgot password?"
Select "North Melbourne FC Account"
Scroll down and select "Forgot your Password? Click Here"
Input your email, that you used to redeem your Roos membership
Click "Send"
You will receive an email from the North Melbourne Football Club to reset your password
Enter a new password and submit
You can now access your account tickets via the North app, using your email and newly created password
Once logged in, simply select the Round you are planning to attend, and your tickets will be ready to view 5 days before game-day
If you have registered multiple family members, you can switch into their accounts by simply tapping on your name & ID at the top of your screen!
When tickets are available, select "view barcode" to see your ticket
UNDERSTANDING YOUR TICKET AND COLOUR CODING
We have taken on a lot of member feedback from our first full season using mobile membership to make it even easier for you to use mobile membership. This includes simple and easy to read directions of where you can sit, easily distinguishable ticket types (Adult vs Junior etc) and colour coding different membership packages and guest passes.

HOW TO SEE MULTIPLE CARDS ON THE ONE MOBILE DEVICE
If you would like to view multiple membership cards on the one device, you will need to check your linked accounts simply by following the steps below. The sooner you can check this, the better!
If there are any issues or if someone is missing, please contact membership services to fix this as soon as possible.
Step one: Log into your MyKangaroos account online HERE (NOT in the App). In the top right-hand corner click on "Personal Account YOUR NAME" and select "Switch Accounts" - if this is not shown, you have no linked accounts.
Step two: All the Member IDs attached to your account will appear on the screen. We highly recommend clicking the pencil button to add names to the accounts so you can keep track especially in the App where only their Account ID is shown.
Step three: Once the above is complete, log into the app and you should be able to switch accounts and see all the same people. If there are any issues or people missing, please call 1300 526 427 as soon as possible, or book in a time for a callback.

If you have an Adult and a Junior in the one account, the top of the ticket will tell you the ticket type (Adult, Concession or Junior)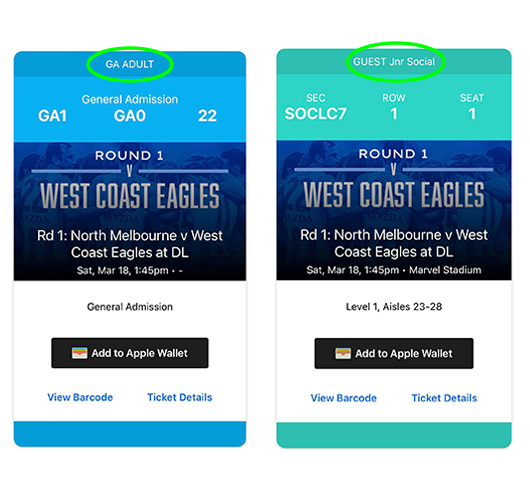 TROUBLESHOOTING
If you are having any issues with the club app, please check the following:
iPhone version
Ensure you are using the latest version of the app. If you don't have automatic updates turned on, check your manual updates list on the App Store.
The app will only function on devices using iOS software 11.0 or higher. If you are using an iPhone released before 2013, you may experience compatibility issues. See the full list of compatible iPhones here.
If you have an older or incompatible device and cannot access the app, please contact us.
Android version
Ensure you are using the latest version of the app. You can see if you have a pending update on the Google Play Store following these instructions.
Users will need to be running Android Version 5.0 or higher. You can check these by going to your System Settings > Scrolling to 'About Phone' or 'About Device' which will be at the bottom > Software Information. The Android version will be noted on this page.
If you have an older or incompatible device and cannot access the app, please contact us.